Return to Headlines
Nova Middle School Pre-Law Students Get Sworn into the Nova Middle Bar at Mock Swearing-In Ceremony
December 12, 2019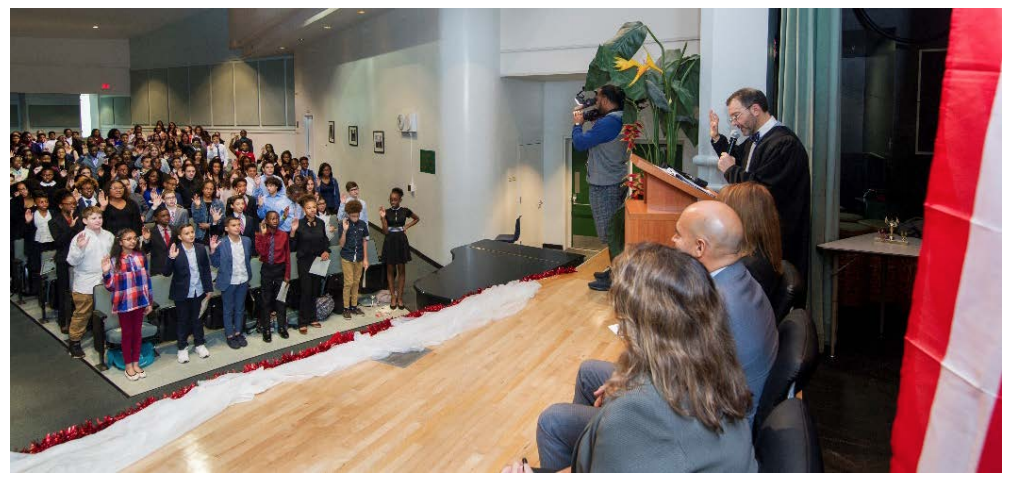 WHO:
Hundreds of Nova Middle School Pre-Law Students, District Staff, District Court Judges and Attorneys
WHAT:
Second annual Nova Middle School Swearing-In Ceremony
WHEN:
Friday, December 13, 2019
10:30 a.m. – 1 p.m.
WHERE:
Nova High School Auditorium
3600 College Avenue
Davie, FL 33314
WHY:
As part of Nova Middle's pre-law program, hundreds of seventh grade students take a mock bar exam called the Nova Middle Bar Exam. If they pass, they are "sworn into" the Nova Middle Bar during the annual Swearing-In Ceremony.
Set up to emulate the real-world process for attorneys, the Swearing-In Ceremony recognizes students that have passed the Nova Middle Bar Exam, giving them the opportunity to appear before local attorneys and judges to take the Oath of Admission to the Nova Middle Bar. The Oath of Admission is a promise to uphold the laws and the rules of Nova Middle School's courtroom and adhere to the highest moral standards of integrity and ethics.
The Honorable Judge Ari Porth and the Honorable Judge Natasha DePrimo will swear-in the students during the ceremony. The event also includes guest speakers, Harold Pryor, Esq., former state attorney; Jason Leonard, Esq., Morgan & Morgan; and​Gabe Ermine, Esq., public defender.
For more information, contact Kristin Murphy, at 754-323-3700.
MEDIA ARE INVITED TO COVER THIS EVENT.


###
ABOUT BROWARD COUNTY PUBLIC SCHOOLS
"Committed to educating all students to reach their highest potential."
Broward County Public Schools (BCPS) is the sixth-largest school district in the nation and the second largest in the state of Florida. BCPS is Florida's first fully accredited school system since 1962. BCPS has more than 271,500 students and approximately 175,000 adult students in 234 schools, centers and technical colleges, and 89 charter schools. BCPS serves a diverse student population, with students representing 204 different countries and 191 different languages. Connect with BCPS: visit the website at browardschools.com, follow BCPS on Twitter @browardschools and Facebook at facebook.com/browardschools, and download the free BCPS mobile app.