Return to Headlines
BCPS Students to Participate in Virtual Claim Your Future Showcase
February 9, 2021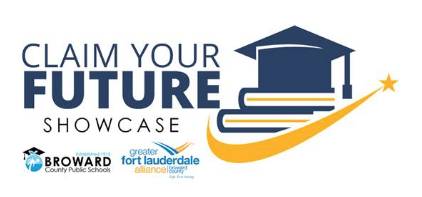 Two-Day Event Organized with the Greater Fort Lauderdale Alliance Takes Place February 10 – 11
Broward County Public Schools (BCPS) students are getting a jump-start on their future career paths thanks to the Claim Your Future Showcase. The fifth annual industry-focused event is a collaboration between BCPS and the Greater Fort Lauderdale Alliance, Broward County's official economic development partnership. It is being held virtually over two days, February 10 – 11, 2021, and is open to 11th-grade students in BCPS Career, Technical & Adult Education programs.
The event provides students with an opportunity to virtually network with local business leaders, hone employability skills through online workshops and engage in mock interviews through a secure platform while receiving feedback from business leaders. There is also an executive business panel discussion, sessions on post-secondary education opportunities and workplace readiness, and an expo with 40 local businesses, allowing students to explore a wide range of career possibilities and learn what skills are needed to pursue their professional goals.
Sponsors of this year's Claim Your Future Showcase are the Fort Lauderdale Executive Airport and Wells Fargo.
"Our annual Claim Your Future Showcase allows students from across the district to learn firsthand about careers they can pursue right here in Broward County, including high-wage, targeted industries. We are thrilled to lead this initiative for a fifth year and present it 100% virtually," said Bob Swindell, President & CEO of the Greater Fort Lauderdale Alliance.
"The Claim Your Future Showcase is an outstanding event for our students," said BCPS Superintendent Robert W. Runcie. "There are tremendous career opportunities available in Broward County. Having the chance to meet with representatives from these industries, receive career advice and get feedback on how to make the best impression on potential employers, is invaluable. It bridges the gap between what students learn in school and how it applies in the real world."
###
ABOUT BROWARD COUNTY PUBLIC SCHOOLS
"Committed to educating all students to reach their highest potential."
Broward County Public Schools (BCPS) is the sixth largest school district in the nation and the second largest in the state of Florida. BCPS is Florida's first fully accredited school system since 1962. BCPS has nearly 261,500 students and approximately 110,000 adult students in 241 schools, centers and technical colleges, and 92 charter schools. BCPS serves a diverse student population, with students representing 170 different countries and 147 different languages. To connect with BCPS, visit browardschools.com, follow us on Twitter @browardschools, on Facebook at facebook.com/browardschools.com and download the free BCPS mobile app.
ABOUT THE ALLIANCE: The Greater Fort Lauderdale Alliance (www.gflalliance.org) is Broward County's official public/private partnership for economic development. Its mission is to lead Broward County in building a stronger and more diverse economy by stimulating the creation of new jobs and capital investment while facilitating the growth and retention of businesses in Broward County. Services offered by the Alliance include assistance with business relocation or expansion and site selection; incentive programs and information; market research; and serving as a liaison for workforce development between CareerSource Broward, educational institutions and the business community. To learn more, call (954) 524-3113.