Return to Headlines
2021 Virtual National Summit for Principal Supervisors Four Leadership Seminars; One Great Conference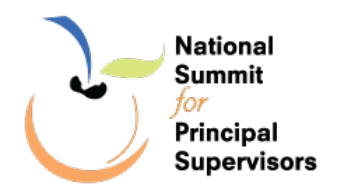 The National Summit for Principal Supervisors Coordinating Committee invites educational leaders from school districts, colleges and universities, and other educational leaders to join the 2021 Virtual National Summit for Principal Supervisors. For the first time in the conference's five-year history, the committee has pivoted to a virtual summit experience and will bring together a vibrant community of educational leaders, principal supervisors and aspiring principal supervisors for a four-day event, taking place over four weeks. The summit's interactive sessions kick off on Wednesday, April 7, with sessions following on Wednesday, April 21; Thursday, May 6 and Thursday May 20.
With the massive challenges created by the COVID-19 and renewed resolve, this year's theme is "Redefining Normal: The Educational Leadership Dilemma." Presentations and conference topics will address the many issues and challenges at the forefront of K-12 education. School health, teacher shortage, technology, social justice, climate change and parents as partners are some of the topics that will be addressed.
"We want to ensure that attendees are engaged at a high level of participation" said Veda Hudge, director, Broward County Public Schools, Office of Service Quality and conference chair. "Each day we will focus on a leading topic and delve deeply into all the many aspects of what leaders can learn from issues we've experienced during this global pandemic."
The conference includes workshops, panel presentations, professional networking opportunities and virtual exhibits. Sponsor partners are Acaletics, Equitable, Presentation Systems South and School Specialty. For conference registration and additional information, visit principalsummit.com or call 754-321-3636.
###
ABOUT BROWARD COUNTY PUBLIC SCHOOLS
"Committed to educating all students to reach their highest potential."
Broward County Public Schools (BCPS) is the sixth largest school district in the nation and the second largest in the state of Florida. BCPS is Florida's first fully accredited school system since 1962. BCPS has nearly 261,500 students and approximately 110,000 adult students in 241 schools, centers and technical colleges, and 92 charter schools. BCPS serves a diverse student population, with students representing 170 different countries and 147 different languages. To connect with BCPS, visit browardschools.com, follow us on Twitter @browardschools, on Facebook at facebook.com/browardschools.com and download the free BCPS mobile app.