Return to Headlines
BCPS Gets Set to Power Up with New Electric School Buses
April 1, 2021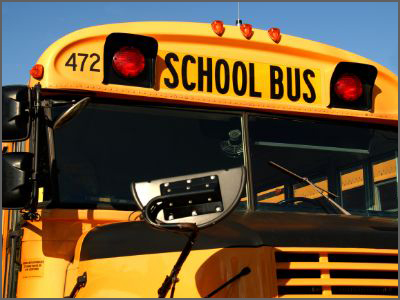 Broward County Public Schools (BCPS) is getting ready to power up with new electric school buses, thanks to a grant from the Florida Department of Environmental Protection (FDEP). Through the grant, the District is purchasing 60 electric buses. BCPS is also partnering with Florida Power & Light Company, which will provide the charging infrastructure for the electric buses at each BCPS transportation terminal.
Each electric bus is a standard 72-passenger vehicle. Unlike typical diesel buses, the electric buses produce no emissions at the tailpipe and are quiet on the road – reducing noise pollution. The quiet ride makes it more comfortable for passengers inside to have conversations. The District is now working to complete its order for the 60 new buses, with the goal of having them delivered and ready to use within the next year. Once the buses hit the road, BCPS will be operating the largest fleet of electric buses in the state.
"This exciting opportunity is an example of our District's commitment to protect the communities we drive through and the environment as we move toward healthier and more environmentally friendly transportation options," said BCPS Superintendent Robert W. Runcie. "We appreciate the state's support and collaboration with this grant. Reducing our carbon footprint is a responsibility we all share. We're excited to be taking this first step with 60 electric buses and look forward to expanding our fleet of electric buses moving forward."
The District's Student Transportation and Fleet Services Department includes approximately 1,300 buses, with about 950 used during daily routes and the remaining buses used for school events and activities. The new electric buses will serve as replacements for older diesel school buses built in or before 2009.
For more information on the District's Student Transportation & Fleet Services Department, visit browardschools.com/transportation.
###
ABOUT BROWARD COUNTY PUBLIC SCHOOLS
"Committed to educating all students to reach their highest potential."
Broward County Public Schools (BCPS) is the sixth largest school district in the nation and the second largest in the state of Florida. BCPS is Florida's first fully accredited school system since 1962. BCPS has nearly 261,500 students and approximately 110,000 adult students in 241 schools, centers and technical colleges, and 92 charter schools. BCPS serves a diverse student population, with students representing 170 different countries and 147 different languages. To connect with BCPS, visit browardschools.com, follow us on Twitter @browardschools, on Facebook at facebook.com/browardschools.com and download the free BCPS mobile app.