Return to Headlines
BCPS Honored as Jumpstart's Read for the Record District of the Year
December 5, 2019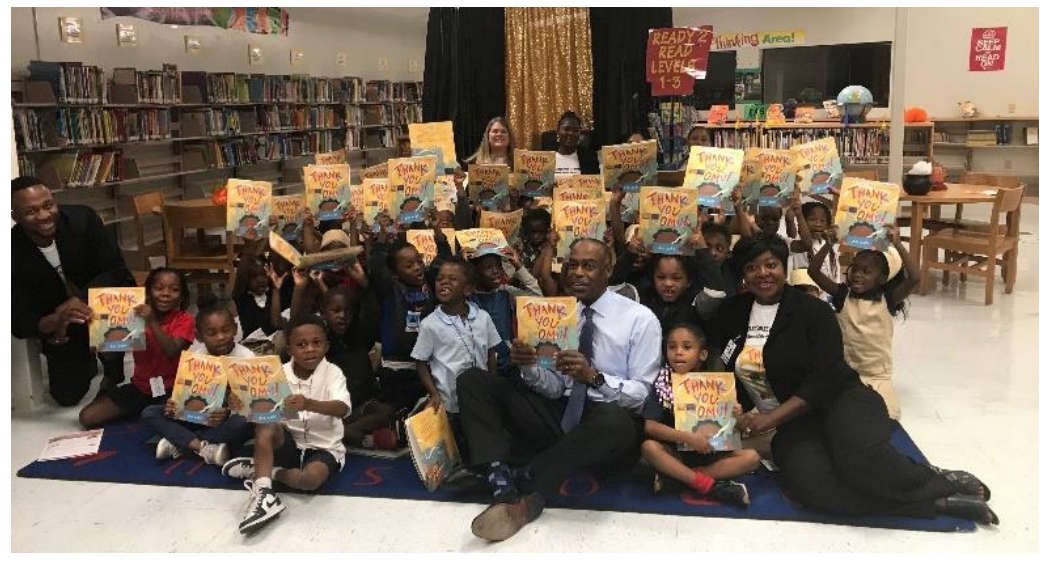 Broward County Public Schools (BCPS) is honored to be recognized by Jumpstart as its Read for the Record District of the Year. This is the first year Jumpstart has presented the national award, which represents the highest level of recognition from Jumpstart among eight award categories.
BCPS has participated in Jumpstart's Read for the Record since its inception 14 years ago and ranks first in the country for the number of students, volunteers and community members participating in the annual event. Through a partnership between BCPS, the Children's Services Council of Broward County and multiple Broward County early childhood stakeholders, a free copy of this year's Read for the Record book, "Thank You, Omu," was provided to 40,000 pre-kindergarten and kindergarten children in Broward County on November 7, in celebration of the big day.
In addition to being named District of the Year, BCPS congratulates Pines Lakes Elementary School in Pembroke Pines for being recognized with Jumpstart's Excellence in Bilingual Reading Award. Pines Lakes Elementary carried out its reading of "Thank You, Omu" in two languages, English and Spanish. The District's Bilingual/ESOL Department provided support for the dual language readings, with portions of readings posted on social media for all to enjoy.
For more information on the Jumpstart Read for the Record national awards, visit https://www.jstart.org/2019/11/22/the-first-ever-read-for-the-record-awards/.
Pictured above: BCPS Superintendent Robert W. Runcie with students from Broward Estates Elementary School on November 7, 2019, for Jumpstart's Read for the Record event.
###


ABOUT BROWARD COUNTY PUBLIC SCHOOLS
"Committed to educating all students to reach their highest potential."
Broward County Public Schools (BCPS) is the sixth-largest school district in the nation and the second-largest in the state of Florida. BCPS is Florida's first fully accredited school system since 1962. BCPS has nearly 270,000 students and approximately 175,000 adult students in 241schools, centers and technical colleges, and 89 charter schools. BCPS serves a diverse student population, with students representing 204 different countries and 191 different languages. To connect with BCPS, visit browardschools.com, visit browardschools.com, follow us on Twitter @browardschools, on Facebook at facebook.com/browardschools.com and download the free BCPS mobile app.